Keep Your Food or Snacks Fresh at All Times!

⭐⭐⭐⭐⭐
"I always thought twice about opening my bag of snacks or nuts for being forced to eat everything that same so it doesn't go rancid. This product is wonderful! I can choose how much to eat and seal the bag again. It is super practical and does not take up space in my kitchen!"

Sofía D.

Fresh food always tastes better
Our MiniSeal™ will help you open and re-seal hundreds of bags of snacks, it is perfect to seal them again keeping your food fresh for much longer.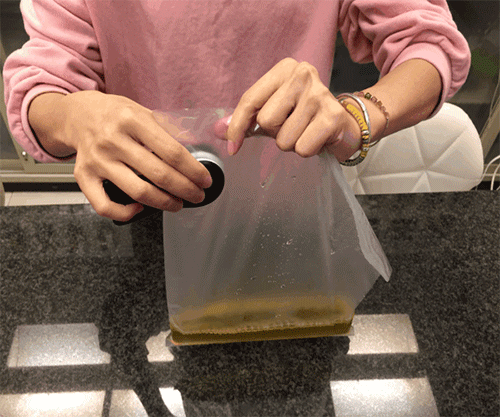 Things don't always go as planned with food. With our MiniSeal™ You will never have to worry about food spoiling and throwing it away again.
How does it work?
No more! With our MiniSeal™, don't put back a bag of snacks to find that next time you want to eat them they will all be soft or stale.


This Mini Bag Sealer Generates enough heat so that the bag is internally sealed, Preventing air from entering or leaving and helping preserve the food for much longer.


Works on all kinds of food bags, Nuts, Bread, Snacks, Cookies, Beans, Noodles, Sauces, Candy, and more!


Small and portable so you can use it anytime anywhere you want!


Elegant and Practical design, very easy to use and store thanks to the fact that it does not take up much space.

The Perfect Gift🎁
| See The Difference | Clips or ordinary hooks | MiniSeal™ - Mini Bag Sealing |
| --- | --- | --- |
| Seal Food Bags | ❌ | ✅ |
| Preserves Food Effectively | ❌ | ✅ |
| Only Need 1 to Seal all bags | ❌ | ✅ |
| Easy to Use | ✅ | ✅ |

Package Includes:
1x MiniSeal™- Mini Bag Sealing Completely new.
AS SEEN ON:
Want to enjoy fresh food Always?
Add it to the cart and take it 50% OFF before they run out!
Customer Support & Guarantee:
If you have any inquiry just contact us at hello@crovable.com

 

and we will be very happy to assist you at all times!
All orders placed are protected with a

 

30 day Full moneyback guarantee, no questions asked!